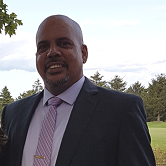 Windsor-Essex Catholic School Board
By Jason Georges
David Walls is one of Catholic Central High School's best educators — in no small part because of his passion for teaching, coaching, and student equity. These traits have become the hallmark of his educational credo, and they have defined him as a person.
Catholic Central High School is an exceedingly diverse school, one where more than 70 per cent of students are English Language Learners. David has taught our students to value every teammate, and he has promoted the ideas of shared respect, shared goals and shared love for all citizens. He is the embodiment of the Canadian Spirit.
As an educator, David is able to lead daring discussions that help youth critically navigate their lives as teens and consumers. In addition, he encourages students to not only explore but celebrate their heritage and cultures, to learn about themselves and proudly share their identity with others.
David has been an exemplary educator, and a man whose convictions, beliefs and moral strength has provided many at our school the power to overcome ignorance, bias, and fear. The impact that he has on his students cannot be overstated, and the Catholic Central community is stronger and more unified because of him.
Jason Georges is Vice Principal at Catholic Central High School and an educator with over 20 years' experience with the Windsor Essex Catholic District School Board as an educator, mentor, and Student Success Teacher.